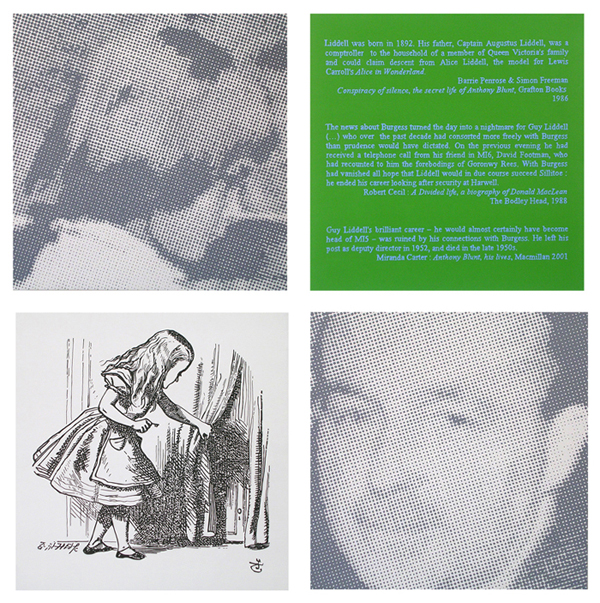 polyptyque, quatre panneaux
Dimensions
chaque panneau 75 X 75 cm
Textes du panneau / texts written on the panel :
Liddell was born in 1892. His father, Captain Augustus Liddell, was a comptroller to the household of a member of Queen Victoria's family and could claim descent from Alice Liddell, the model for Lewis Carroll's Alice in Wonderland. Barrie Penrose & Simon Freeman Conspiracy of silence, the secret life of Anthony Blunt, p.259, Grafton Books, 1986
traduction : Liddell était né en 1892. Son père, le capitaine Augustus Liddell, supervisait la comptabilité d'un membre de la famille de la Reine Victoria et pouvait se prévaloir de liens de parenté avec Alice Liddell, le modèle de l'Alice de Lewis Carroll.
The news about Burgess turned the day into a nightmare for Guy Liddell (…) who over the past decade had consorted more freely with Burgess than prudence would have dictated. On the previous evening he had received a telephone call from his friend in MI6, David Footman, who had recounted to him the forebodings of Goronwy Rees. With Burgess had vanished all hope that Liddell would in due course succeed Sillitoe : he ended his career looking after security at Harwell. Robert Cecil : A Divided life, a biography of Donald MacLean The Bodley Head, 1988
traduction : Les nouvelles concernant Burgess transformèrent ce jour en un cauchemar pour Guy Liddell (…) qui, depuis dix ans, avait, dépassant toute prudence, beaucoup fréquenté Burgess. La soirée précédente, il avait reçu un appel téléphonique de son ami du MI6 David Footman, qui lui avait raconté le pressentiment de Goronwy Rees. Avec la disparition de Burgess, tout espoir pour Liddell de succéder à Sillitoe s'évanouissait : il termina sa carrière comme responsable de la sécurité à Harwell (Centre de Recherche Nucléaire -ndt).
Guy Liddell's brilliant career – he would almost certainly have become head of MI5 – was ruined by his connections with Burgess. He left his post as deputy director in 1952, and died in the late 1950s. Miranda Carter : Anthony Blunt, his lives, Macmillan 2001
traduction : La carrière brillante de Guy Liddell – il aurait presque certainement été nommé à la tête du MI5 – fut anéantie par ses relations avec Burgess. Il quitta son poste de directeur adjoint en 1952 et mourut à la fin des années 50. >